Compatible: (5.7L/6.1L/6.4L)
2005 - 2023 Chrysler 300
2008 - 2023 Dodge Challenger
2006 - 2023 Dodge Charger
2005 - 2023 Dodge Durango
2005 - 2008 Dodge Magnum
2003 - 2010 Dodge Ram 1500
2011 - 2023 RAM 1500
2011 - 2023 RAM 2500
2011 - 2023 RAM 3500
2005 - 2023 Jeep Grand Cherokee
This Block Off Plate blocks off the oil filter bung on all Gen 3 Hemi blocks. It is used in conjunction with a remote oil filter adapter.
Gen 3 Hemi Oil Filter Block Off Plate and Remote Location Oil Filter Adapter. The Oil Filter Adapter us AN10 O'Ringed Fittings. Adapter has 2 additional ports for either Oil to Turbo and Oil Sending Unit.
Stanke Motorsports offers a variety of specialty tools and products to streamline your engine assembly workflow and organizational needs.  We also provide a variety of custom CNC machining and turning services including prototype and product development. Each product is subjected to our experience as  racers, before we start a project, so that the end product is fabricated to work the best and be the most practical to work with.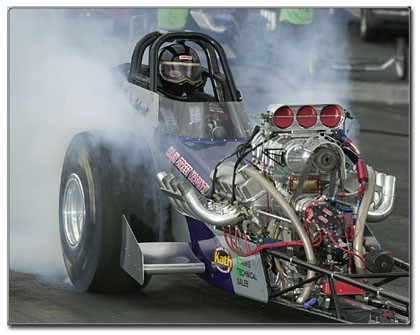 The Stanke Family's passion for drag racing dates back 5 decades when Roger campaigned a variety of cars in the Mid-west, including a Bantam-bodied Altered as well as a Top Gas Dragster. A shift towards raising a family, and his growing business concerns reduced the participation but not the obsession. Fast-forward to the 90s with two adult sons, and their combined skills in Tool Design, Machining, along with Welding, the trio plunged into the Nostalgia Drag Racing scene with a brand new dragster built by fabled chassis guru Rob Stirling.
Campaigning the dragster opened the opportunity for sons Jeff and Jim to hone their machining and design skills to fabricate numerous "trick" parts as well as specialty tools for the racecar. Naturally, a "light bulb" moment occurred to sell these products and services based on interest and requests from fellow competitors in the area.
Success with the dragster, with wins at the Hot Rod Reunion, Goodguys Vintage Drags, and other venues throughout the Midwest brought further attention to the growing set of products. In 2008 Stanke Motorsports switched from the dragster to a new 1978 Arrow Funny Car, an even greater means for Jim and Jeff to create additional specialty products, as well test their skills in the highly competitive field of nitro racing.
Warranty: