---
---
Compatible:
2005 - 2009 Ford Mustang Base (4.0L)
2011 Ford Mustang Base (3.7L)
2012 - 2013 Ford Mustang Boss 302 (5.0L)
2008 - 2009 Ford Mustang Bullitt (4.6L)
2005 - 2010 Ford Mustang GT (4.6L)
2011 - 2014 Ford Mustang GT (5.0L)
2007 - 2008 Ford Mustang Shelby GT (4.6L)
Features: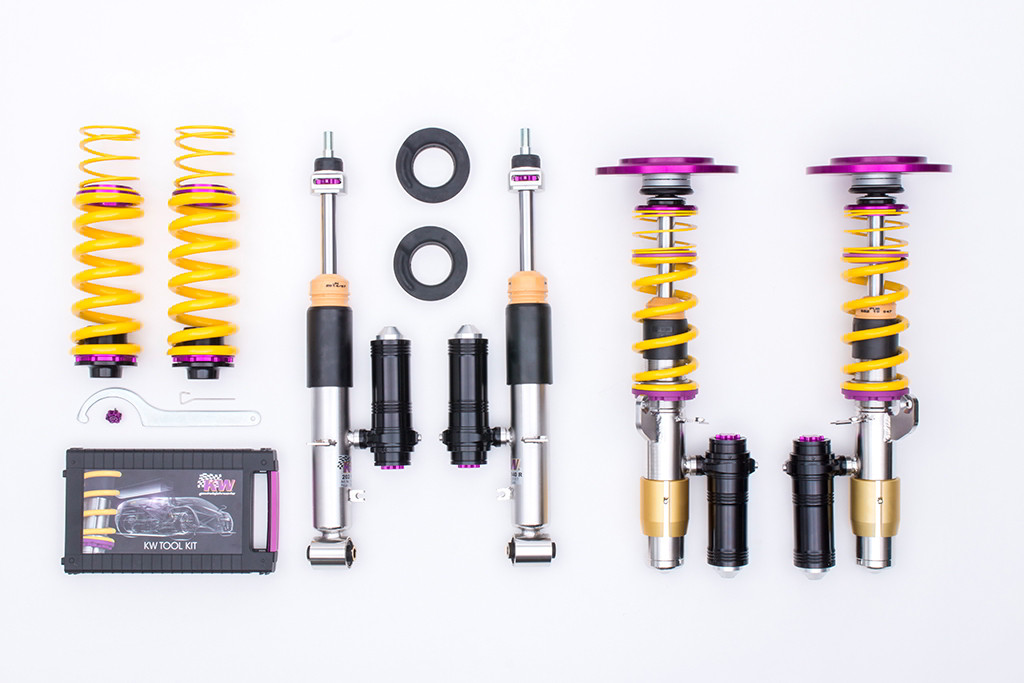 Street-legal race track performance! KW Clubsport provides cutting-edge motorsports technology for those who enjoy unparalleled handling and performance on the road or track. Designed to maximize the performance on vehicles with DOT-R and other ultra high-performance tire setups. KW 2-Way Clubsports are the ideal choice for double-duty street cars, use at HPDE's(high performance drivers education), time attack or time trials, and club level racing.The Clubsport setup was specially designed on the Nordschleife and the continuous adjustable ride height allows for fine corner weight or making setup changes. The TVR-A and TVC-A valve technology provide an unmatched level of separately adjustable damping for the rebound and compression enabling a customized set up appropriate for the vehicle's modifications such as weight, tire characteristics, and other various conditions.
Specifically Engineered Setup – Vehicle specific with separately adjustable rebound and compression damping
The KW 2-Way Clubsport "inox-line" coilover kit is the ideal tool for performance-oriented drivers and experienced tuning enthusiasts who place a strong emphasis on the overall performance of their suspension. The KW 2-Way Clubsport features patented TVR-A and TVC-A technology that provides separately adjustable rebound and compression damping. The extensive adjustment range of the independently configurable rebound and compression make it easy to directly influence the steering behavior, directional stability, grip and handling characteristics for confident and repeatable results at the limit of driving dynamics.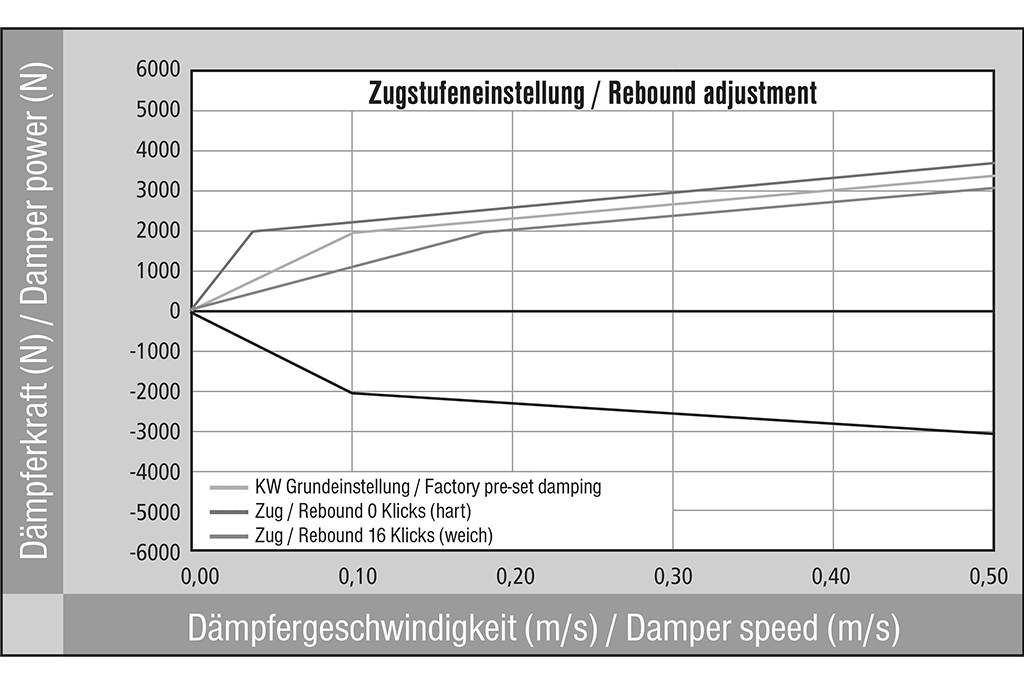 TVR-A Technology:

The two-stage, patented TVR-A (Twin Valve Rebound - Adjustable) technology enables a small volume of oil to flow through an adjustable, conically shaped, low-speed bypass during low damper speeds, while in the case of higher damper speeds, the main rebound stage valve opens allowing a larger volumn of oil to flow. This provides a big improvement in terms of ride comfort without influencing the safety-relevant high-speed range. There are 16 precise clicks available for individual settings, so you can choose between more comfort or more body control.
TVC-A Technology

With 12 precise clicks, the KW 2-Way Clubsport coilovers utilize TVC-A (Twin Valve Compression - Adjustable) technology and can increase or decrease the flow of valve to achieve either more or less low speed compression damping. During sudden high speed impulses the spring loaded needle valve and the spring loaded main valve open to their maximum valve cross section, acting as a digressive blow-off characteristic to avoid transmitting undesired forces through the suspension into the chassis. This provides a better platform for the vehicle body and at the same time offers more comfort than with conventional valve technology during high wheel acceleration. The dampers come preset to our baseline shock settings right out of the box providing an optimal starting place for your car while providing a wide adjustment window for true performance optimization.
Specs:
Internal Design: Twin-Tube
Shock Absorber Type: Hydraulic
Adjustment Type: Double Adjustment
Rebound Adjustment: 16 Clicks
Compression Adjustment: 12 Clicks
Levels of Adjustment: 1344 Levels
Front Damping Adjustment: Yes
Rear Damping Adjustment: Yes
Front Height Adjustment Type: Threaded Spacer
Rear Height Adjustment Type: Spring
Front Upper Mount Type: Pillow Ball
Rear Upper Mount Type: Pillow Ball
Front Camber Plates: Yes
Rear Camber Plates: Yes
Front Coil Spring Rate: 10.2 kg/mm (570 lbs/in)
Rear Coil Spring Rate: 6.1 kg/mm (340 lbs/in)
Front Help Coil Spring: IncludedDamper Material: Stainless steel 
Install Guides:
Warranty:
---