Compatible: (5.0L)
2011 - 2023 Ford Mustang
2011 - 2023 Ford F-150
The ARP Manufacturing Process
Raw Materials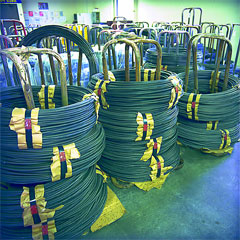 In order to ensure optimum quality control, ARP has grown to be exceptionally self-reliant and now controls all aspects of the manufacturing process. All operations are performed in-house and closely monitored. This is how ARP has been able to establish a reputation for "zero defects" quality throughout the industry.
The process begins right at the mill, where ARP orders only premium grade materials including several proprietary alloys. The ever-popular 8740 chrome moly steel, for example, comes from the mill in four distinct grades. The lowest is "commercial," which is followed by "aircraft quality." ARP uses only the top two grades (SDF and CHQ), which cost twice as much, but provide the foundation for defect-free fasteners. These materials come in bar stock (for studs) and huge coils (for bolts).
Heading: Cold or Hot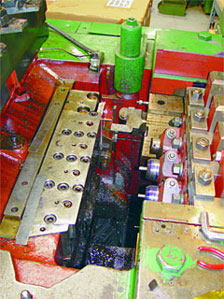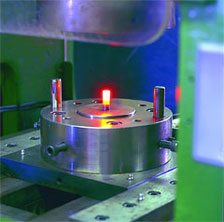 Transforming raw material into a fastener begins with "hot" and "cold" heading processes. Material is fed into powerful devices and cold forged, or induction-heated and formed under tons of pressure.
Heat Treat & Shot Peening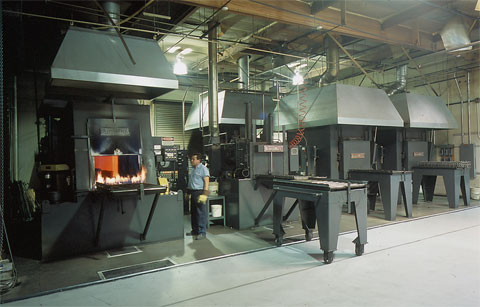 Following the basic shaping, material is heat-treated to desired levels. This crucial process is done entirely in-house to assure total quality control. ARP uses special vertical racks to hold each piece individually and assure complete 360° penetration. This is far superior to commonly-used methods of dumping items into a large bin and batch-treating.
Fasteners are shot-peened after heat-treatment to remove any surface irregularities and improve overall external integrity.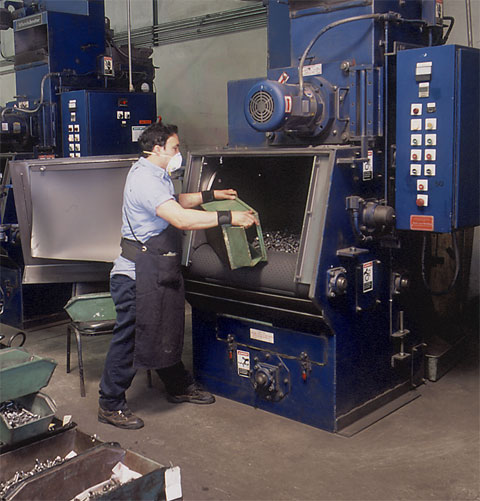 Centerless Grinding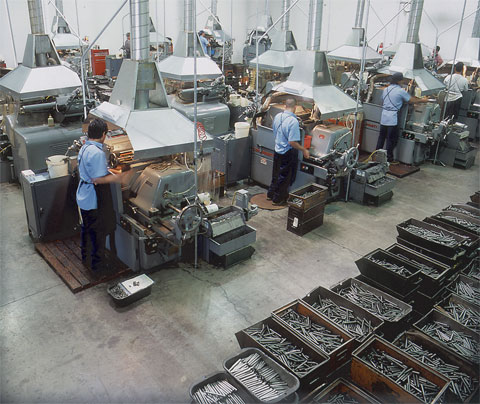 The Grinding Department is where all studs are centerless ground to ensure that they are perfectly concentric. As many as ten machining steps are required to achieve this level of accuracy.
Thread Rolling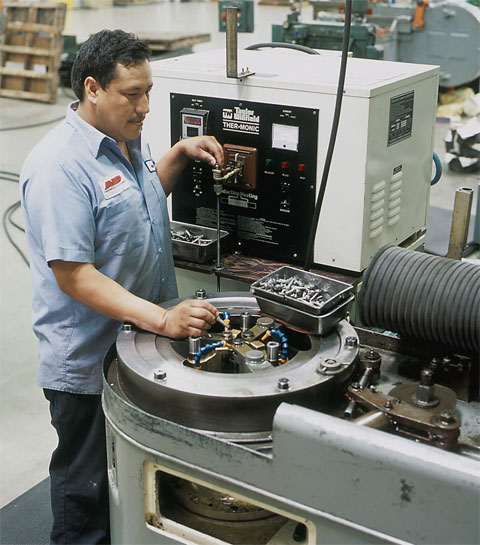 The thread rolling operation (to MIL-S-8879A specs) is done after heat-treat, which accounts for a fatigue strength up to ten times higher than fasteners which are threaded prior to heat-treat.
Nut Forging and Tapping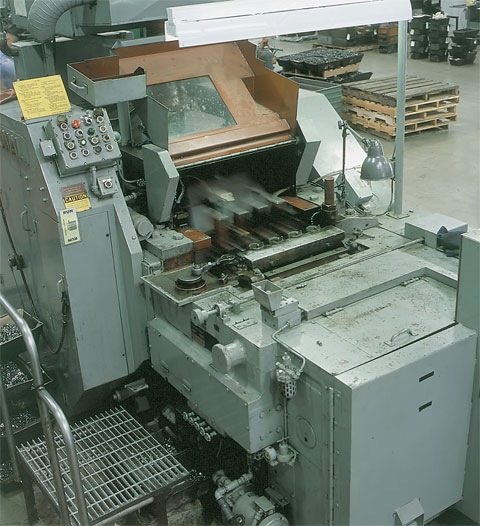 ARP manufactures nuts in a multi-step process that begins with raw material being fed into a giant forming device that "blanks" the hex and 12-point nuts and continues with highly sophisticated automated threading equipment tapping each nut with an accuracy of .001˝ (which is five times higher than the aerospace standard). This ensures an exceptionally close-tolerance fit between the bolt/stud and nut.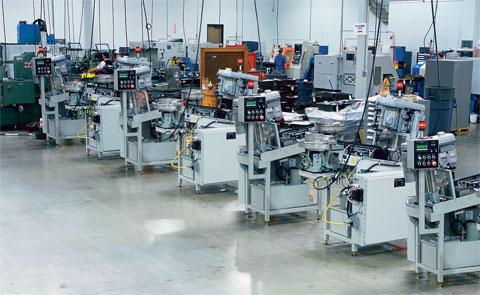 A series of CNC-threading machines are employed by ARP to accurately tap the threads in nuts. Tolerances held are 5 times better than aerospace standards.
Metal Finishing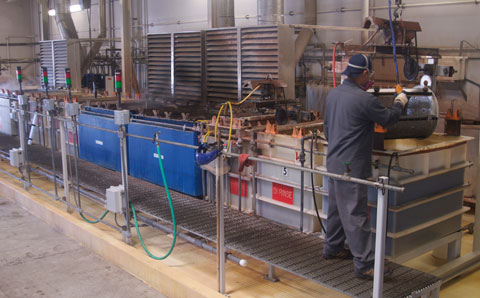 Metal finishing is also performed in-house at ARP. Operations include black oxide coating of chrome moly or polishing stainless steel to a brilliant luster.
R&D and Quality Control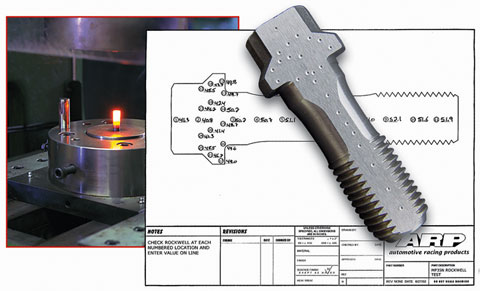 A series of special checking devices are employed to monitor the quality of threads. For every thread size, there is a checking device.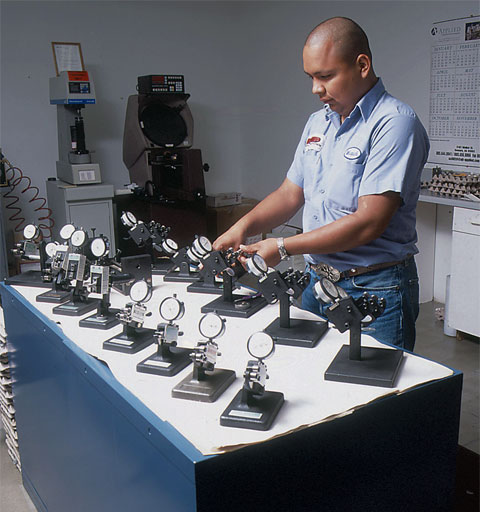 Pack and Ship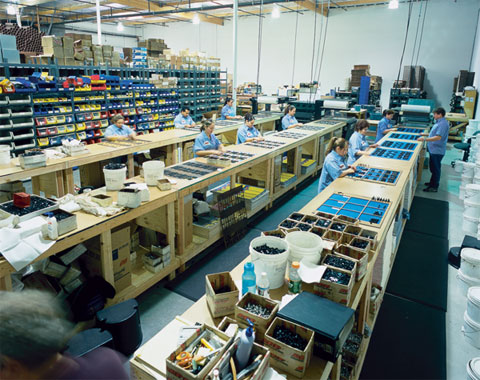 Components for each kit are placed on the appropriate display cards, sealed and labeled. Boxed kits are weighed on a special scale ensure that each kit contains exactly the right pieces.
The Importance of Engineering
There are a number of important elements in the production of specialty fasteners, not the least of which are materials, design and manufacturing. As you read further into this -catalog, you will get a better idea of the extraordinary steps taken by ARP to produce the very finest products of their kind on the market today. The key to success in all areas is personnel. And here's where ARP's cadre of highly qualified and dedicated specialists shines brightly.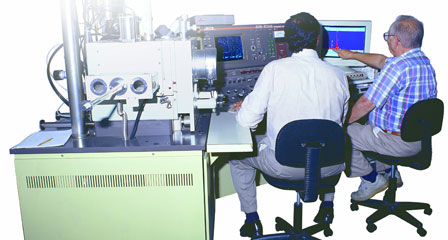 The ARP Engineering Team
Two valuable resources in the design of ARP products are Dr. Kenneth Foster and Russell Sherman, P.E. Both men have extensive backgrounds in mechanical engineering, metallurgy and stress analysis. Their academic credentials are substantial and their real world experience equally impressive.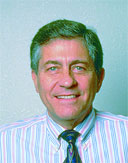 Dr. Foster has a Ph.D. in Engineering Mechanics from Cornell University and has taught at several colleges. He was formerly the head of Stress & Dynamics at Hughes Aircraft, Space Systems division.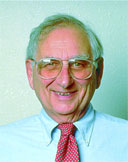 Mr. Sherman has been awarded a fellowship from A.S.M. International, and holds a number of fastener patents.
Some of the most valuable work done by Foster and Sherman includes analyzing various aspects of engine, chassis and driveline structural loads, and coming up with solutions to the problems at hand. In this manner, the ARP Research Team is able to continually expand the company's product line.
ISO 9001 and AS9100 Compliance

ARP has added Robert Logsdon to its cadre of consultants. He comes to ARP with vast experience in the area of Metrology, Quality Control, Manufacturing, Acquisition and Configuration Management. Logsdon is a graduate of the U.S. Naval Academy of Metrology Engineering, the Defense Management College and U.S. Air Force Institute of Technology.
Additionally, ARP has one of the industry's most complete in-house R&D/QC facilities and a wide variety of testing equipment. Through the combined efforts of Logsdon and ARP's management team, the ISO 9001 Level 1 (Quality Manual), Level 2 (Quality System Procedures) and Level 3 (Work Instructions) documentation has been finalized and is being implemented. ARP is now ISO 9001 and AS9100 registered.
Warranty: